Up & Coming
The Swedish political summit in Almedalen and social innovation
29.10.2015
Debate regarding business and social benefit
During Almedalen 2015, LSV participated in a range of activities. Together with Hjärna Hjärna Cash Cash an organization that encourage youth to engage in social entrepreneurship, LSV hosted a panel discussion regarding business and social benefit. Video only available in Swedish.
The launch of a social impact bond collaboration with Norrköping municipality
During the Friday, Leksell Social Ventures, together with the Swedish municipality and counties (SKL), the consulting firm Health Nagivator and Norrköping municipality, launched a collaboration to develop a model for financing municipal innovation on the theme of addressing children being placed in family care.
See the video from the seminar here. (The video is only available in Swedish.)
The model is called social impact bond and means, in short, that a private financier like LSV can bear the risk of an innovation with the aim to meet a specific need in a municipality, by financing the development of an adequate model, either supplied by an external party or developed within the municipality. The financier only gets paid if the model is proven effective, meaning that the expected outcome is reached. The outcome can be measured in financial savings for the municipality, as well as a social outcome, for example improved grades for children.
The prime minister opened Almedalen by speaking about the individual's responsibility
The perhaps most public element for the sector of social innovation in Almedalen was Stefan Löfven's reference to Johan Wendt and Mattecentrum, a nationally scaled maths tutoring non-profit, to exemplify an individual making a change in society. The prime minister did not focus on social innovation or social entrepreneurship as such, but rather emphasized the responsibility of the individual.
"Friends, if there is anything that warms my heart, it is when people develop themselves and in this also develops his or her community. I see it every day. Like Johan Wendt, who is here in the audience tonight, that helped the neighbor's daughter to study for her maths test. She came back with a better grade than she could ever have imagined and said with tears in here eyes that she did not think that grades like that were for 'girls like her'. Today, Mattecentrum, founded by Johan Wendt, exists in 28 cities, providing free math help to thousands of children – children who, maybe for the first time get to believe that good grades are something for people like them too".
Some interesting news that could be noticed during the week:
Ylva Johansson promised public support for work integrating companies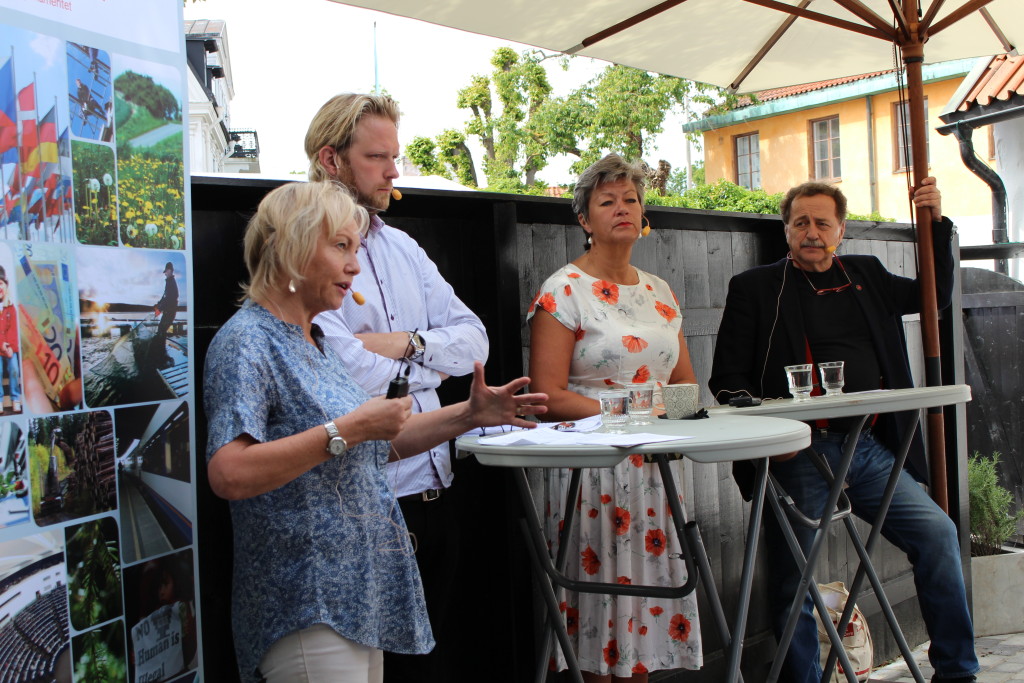 During a panel discussion, Ylva Johansson suggested that work-integrating companies could play an important role in the improving labour market matching, training and by extension, economic growth. What this support would entail remained unclear. However, there were indications that financial support and simplified regulatory burdens should form part of this.
In Sweden Work-integrated companies are the only type of social entrepreneurial initiatives that have gained legitimacy and attention in legislative and political policies. To a question if this means increased curiosity on part of the government towards other types of social enterprise, the Labor Minister would not suggest so but remained focused on work-integrated companies.
The interior minister has to compete in the procurements regarding social means
During a gathering hosted by the association for Sweden's women shelters, the interior minister Ardalan Shekarabi gave a new message regarding procurement policy sugesting an opening toward non-standard procurement processes for the social sector. Female shelters have lobbied or exceptions from the current procurement rules in order to simplify partnerships with local municipalities. Shekarabi indicated that this might be possible and advocated exceptions for initiatives that are not have direct competition and could be regarded as particularily desierable from a municipality's point of view. such exemptions were suggested to perhaps take the form of "public-non-profit partnerships" (ideburna offentliga partnerskap – IOP) whereby a municipality could receive and allocate financing ear marked for social issues and non-profit service providers.
LSVs analysis is that increased recognition and financial support for IOPs could have substantial implications for the social sector. It would imply a more predicable and stable a source of demand for social services and innovations. Take the example of womens shelters. For an impact investor like LSV this is a problematic investment case because demand for their services is sadly unreliable municipalities financing such organizations on a year by year basis. However, if financing could become more reliable then maybe the female shelters could attract financiers and hence a possibility to grow and develop.
The municipalities want to save money on method development
During the week LSV met with many representatives from municipalities, which indicated a very different buy-in to social innovations, based on the idea that it can do more in terms of better quality for less cost. The development of good methods will be particularly attractive for the 64 social investment funds around Sweden, which have collected over 1 billion SEK during the last couple of years. The increased level of engagement mainly derives from the insistent argumentation from Scandia's foundation Idéer för livet and the economists Nilsson and Wadeskog, which speaks of early interventions in order to save money later on. However, the normal procurement processes herons above the municipality that wants to have a stake in an individual initiative and increased levels for direct procurements does not help when the level of investments associated to social innovations are around a million SEK. Yet, though internal means, the municipalities can invest more freely and it is of course in these directions the local social investment funds are looking.
Hence, for the person who has an attractive model for a municipality, with higher quality and at a lower price, there is a demand. The municipalities are generally far more open and clear on the societal challenges ahead compared to the governmental politicians and the need for solutions are great if the public sector is to survive the coming years.
LSV's analysis of Almedalen 2015
The analysis of this year's Almedalen is that the situation for the municipalities around the country is becoming more and more pressing. The differences in attitudes between local and state politicians are obvious. The local politicians cannot afford idealizing and polemicized discussions about political standpoints. The municipalities are facing the reality head on and the bright and shining future is difficult, as SKL expressed it during a seminar they held together with LSV.
However, a more stressful situation generates possibilities – necessity is the mother of innovation. Municipalities with increased insight into their problem areas are becoming demanding customers for qualitative social innovation and sustainable social models. There are 290 municipalities in Sweden, 64 of these have allocated special means for social innovations. This is , to say the least, a very decent market. Moreover, most municipalities experience varying yet similar examples of the same problems, such as urbanization, leading to ending tax revenues, and due to this, closing of local services and higher youth unemployment, increased poor mental health, substance abuse and increased immigration. It is an engine to create rightist extremists. It also means that there is a concentrated set of problems that seeks solutions and a lot of buyer-willing customers. A proxy could be asylum housing. What if entrepreneurs could get paid for social effects rather than number of beds, activities or other facilities that has nothing to do with the wanted outcome, being better integration, improved working market, increased mental wellbeing and improved social cohesion.
Sweden needs 5 to 10 models that solve all municipalities' main problems, and that can be implemented in local and national scale. This will be LSVs main focus during the coming year.
Follow LSV's journey in finding solutions to our most pressing societal problems, with the aim of creating a better Sweden.